This PMP exam simulator free demo contains 15 sample PMP questions from the Full PMP Exam Simulator. You will find 1,400+ real-like similar PMP exam questions and seven PMP exams in the PMP Exam Simulator.
How to Use PMP Exam Simulator Free Demo
1- Answer each PMP question of PMP Exam Simulator Free Demo one by one until the end of the page. Once you completed the PMP exam simulator free demo, click on "Finish" button.
2- Page will scroll up to the top of the page and show your results. You will have two possible results.
– Scored Over 70% –> Congrats, you scored over our recommended score to sit for PMP exam confidently.
– Scored Below 70% –> Unfortunately, you scored below our recommended score to sit for PMP exam.
You should revisit PMP training materials and improve your weak knowledge areas.
3- For your correct answers, PMP Exam Simulator Free Demo will underline the correct answer option with green stick as below.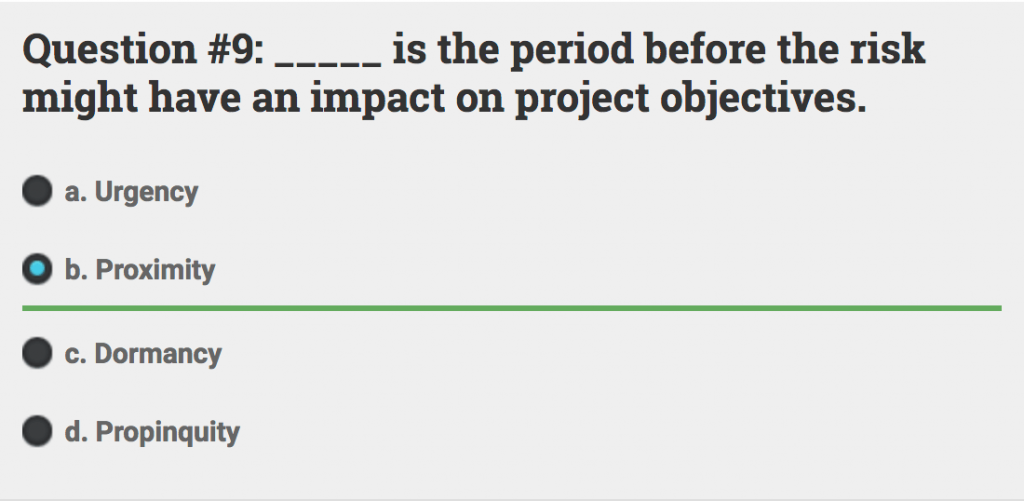 4- For your wrong answers, you will see that PMP Exam Simulator Free Demo will highlight your wrong choice with red stick as below. You will also see the correct answer rationale for the answer.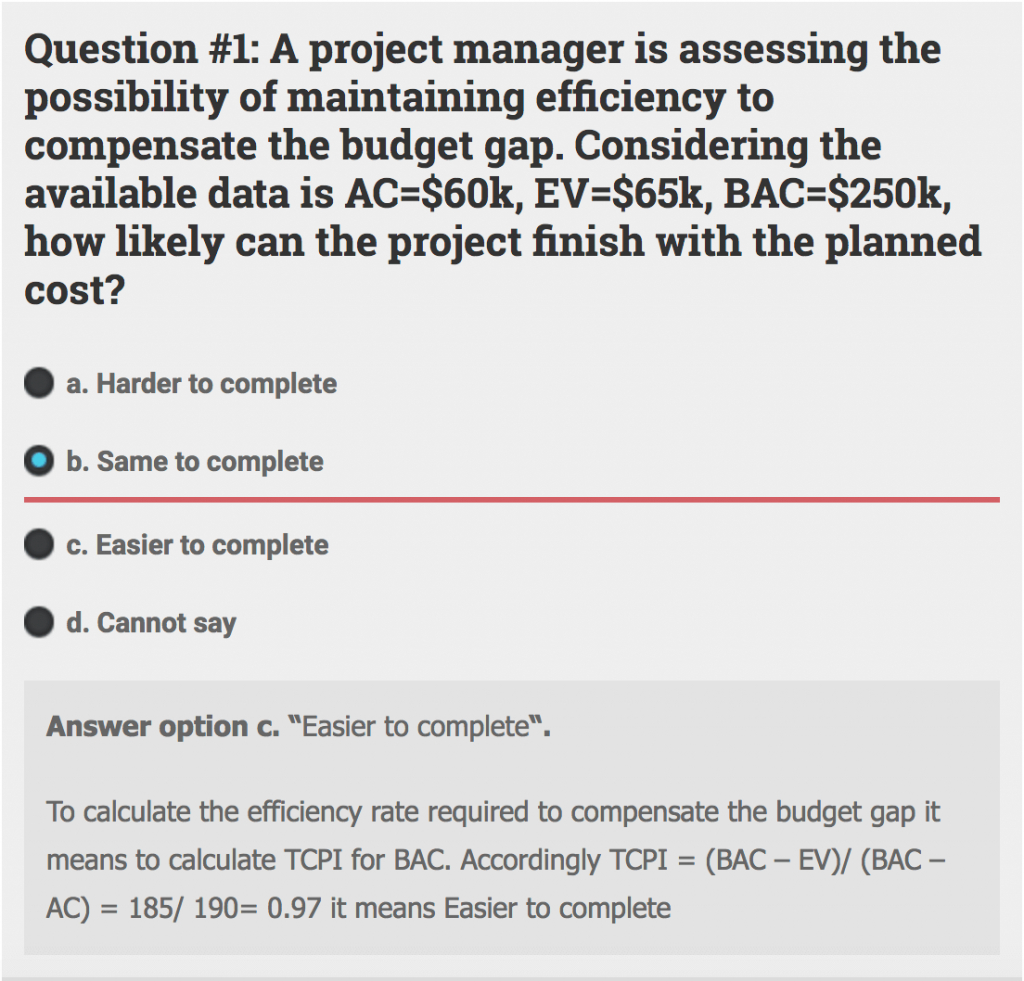 5- In real PMP exam, there are 200 questions and you will have four hours to complete it. This means 1.2 minutes per question. PMP Exam Simulator Free Demo will give you 18 minutes (1080 seconds) for answering these 15 sample questions. PMP Exam Simulator Free Demo timer will start from 1140 seconds and count down to 0 on right bottom of the page. Additional 60 seconds is for reading instructions.
Now, let's start to PMP Exam Simulator Free Demo!
Results
Congrats! You have scored over 70%. You can confidently book your PMP exam date and sit for the exam.
We strongly recommend you to go over your mistakes and learn why you made mistakes. You can consider enrolling in our PMP programs to double your chances to pass the PMP exam in your first attempt.
Unfortunately, you scored below 70%. We recommend you to review the PMP training content once again. Until you score over 70% from sample PMP exams, we do not recommend to book your exam.
#1

The PMI Talent Triangle focuses on three key skill sets Technical project management, Leadership and _____

Answer option b. "Strategic and Business management" (Answer option b.) is the third set of skills that the PMI talent triangle focuses on.
#2

The project manager asked the quality team to find the main reason behind the reoccurring bugs in the software program that the project team is developing. Which technique would the quality team use?

Answer option d. "Root cause analysis" is an analytical technique used to determine the basic underlying reason that causes a variance, defect, or risk. A root cause may underlie more than one variance, defect or risk.
#3

During the monthly project meeting, one of the key stakeholders complained that his previous concern was not resolved since the last meeting. In order to track the mentioned concern, which of the following documents would you review?

Answer option c. "Issue log" contains records of all project issues
#4

A project manager is assessing the possibility of maintaining efficiency to compensate for the budget gap. Following is the available data: AC=$60K, EV=$65K, BAC=$250K. How likely can he complete the project on the planned budget?

Answer option c. "Easier to complete".

"To calculate the efficiency rate required to compensate the budget gap" means to calculate TCPI for BAC. Accordingly, TCPI = (BAC – EV)/ (BAC – AC) = 185/ 190= 0.97. If TCPI is less than 1, it means, it is easier to complete the project on budget.
#5

Suzy is a project manager working on identifying her project's stakeholders. Her company has a strong PMO knowledge base. She requested from PMO to provide her a stakeholder register template that she can use in her project. Stakeholder register template is part of _______.

Answer option b. "Organizational process assets" contains all project document templates including Stakeholder register templates.
#6

A conflict between two project team members was reported to you. After brief investigation, you concluded that one of them is approaching matters personally due to the recent death of his father. You approached this individual by sympathizing with his issue and persuaded him to take a short vacation. You advised him to resolve the conflict with his colleague when he is back from vacation. This is an example of_____

Answer option d. "Emotional intelligence" (Answer option a.) was used through understanding the person emotions and appreciating them. "Conflict resolution" (Answer option b.) was also used through investigating the root cause and taking the proper action to solve it. "Active listening" (Answer option c.) there is no mention of the use of active listening. The best answer is "Both A and B" (Answer option d.)
#7

Emily is project manager of a big construction project. She wanted to determine the activity duration of redecoration of the main hall project activity. Emily asked the project team leader, who is responsible for this activity, about his estimates. He told that the main hall redecoration activity be completed most likely in 12 days. If everything goes smoothly, they can complete it in 10 days, and in case of unexpected issues, the activity will take at most 20 days. Emily uses three-point estimation (triangular) for activity durations. What will be the activity duration estimate for redecoration of the main hall?

Answer option a. "14".  According to three-point estimation (triangular) technique activity duration = (O+M+P)/3= (10+12+20)/3=14 days. If Emily would be using beta distribution, activity duration estimate would be (O+4*M+P)/6= (10+4*12+20)/6=13 days.
#8

ICT Consultancy Co. just signed a contract with a company in Germany to deliver international network connectivity service. Due to the EU regulations, ICT project manager has to communicate with German government representatives in order to ensure the project delivery. Which of the following communication methods is most suitable for this case?

Answer option a. "Official" communication method is most suitable since the project manager will be communicating to regulators or government bodies.
#9

Your company decided to suspend some of the low-priority projects due to the financial crisis. The suspension period will continue for at least six months. Your project is also one of the projects that will be suspended. However, you cannot suspend the project since it will be considered as failed if you cannot complete it on time. You explained the situation to the senior management and they advised you to terminate the project. What should you do next?

Answer option d. "Document the reasons for termination" (Answer option a.), "Release project resources" (Answer option c.) and "Handover the completed and incomplete deliverables" (Answer option d.) are all activities required for this situation. The best answer is "All of the above" (Answer option d.)
#10

You are managing a software development project. Your company wants to see frequent deliverables in short periods since the project is large and it will take a long time to complete the project. There are few dependencies between the features of the project activities. Which of the following scheduling techniques would you use in this case?

Answer option d. "Iterative scheduling with a backlog" (Answer option d.) is often used to deliver incremental value to the customer or when multiple teams can concurrently develop a large number of features that have few interconnected dependencies.
#11

You are about to complete your project. You are preparing a presentation to summarize project's performance and gather evidence on how the project met its completion criteria. You are preparing __________ of the project.

Answer option b. "Final report" provides a summary of the project performance.
#12

You are experiencing a major issue in your construction project due to late material delivery. Although you have already accounted the risk for this situation during project planning, an unpredictable factor caused the issue. What are the correct steps you would take?

Answer option b. "Define the problem, Identify root-cause, Generate solutions, Implementing the solution and Verifying solution effectiveness" is the only answer in the correct order.
#13

While implementing the risk response to a threat in a project, the risk owner reported that there is a remaining risk at an acceptable level. Often, we call these remaining risks _____

Answer option c. "Residual risks" are expected to remain after planned responses have been taken, as well as those that have been deliberately accepted.
#14

Which of the following organizational process assets does not influence the Conduct Procurements Process?

Answer option d. "Financial policies and procedures regarding invoicing and payment processes" (Answer option a.), "Organizational policies that influence the selection of a seller" (Answer option b.) and "List of preferred sellers that have been prequalified" (Answer option c.) are organizational process assets that can influence the Conduct Procurements Process. The best answer is "Contract management systems" (Answer option d.).
#15

Due to the massive number of project stakeholders and the frequent changes in stakeholders' community, you are facing a complexity issue with stakeholder management. Which of the following techniques can help you to facilitate this situation?

Answer option b. "Prioritization" (Answer option b.) is necessary for projects with a large number of stakeholders, where the membership of the stakeholder community is changing frequently.
Do not risk your PMP Exam Success. Enroll in PMP Exam Simulator and practice with 1,400+ PMP Practice Questions. 30 Day Refund Guaranteed (*)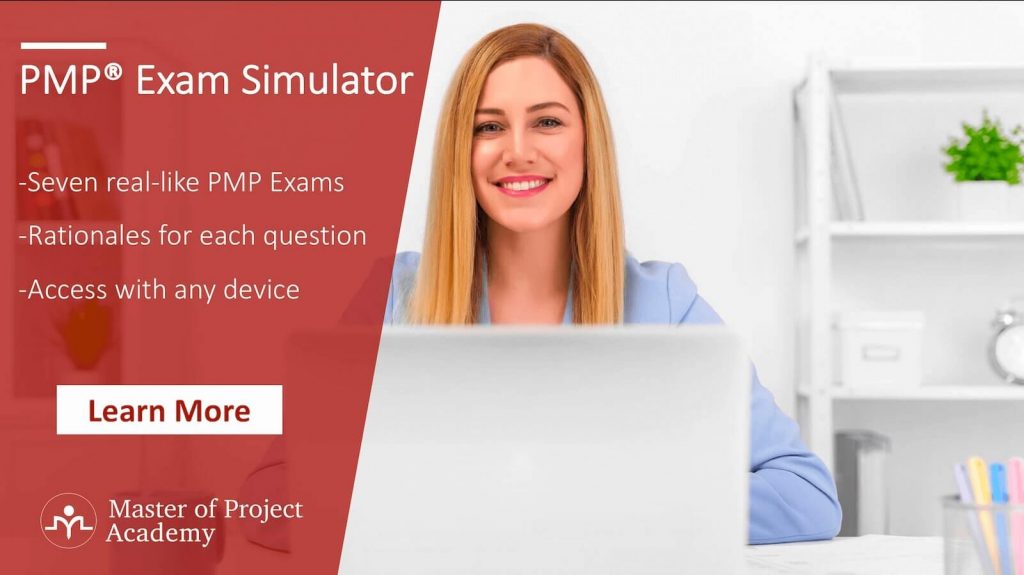 *To have full refund, you must not exceed 10% of the overall PMP Exam Simulator progress.